NOON UPDATE:
A severe thunderstorm watch now covers all of central Alabama, as far south as Lowndes, Montgomery and Bullock counties until 7PM. Our Weather App will keep you on top of any warnings for your area. Damaging wind gusts are the main threat.
11:30 UPDATE:
The Storm Prediction Center is monitoring a large portion of central Alabama, for a potential severe thunderstorm watch, as a complex of storms (MCS) over north Alabama migrates southward over the next several hours.  The main threat here in central and south central Alabama could be in the 3 to 7 pm time frame.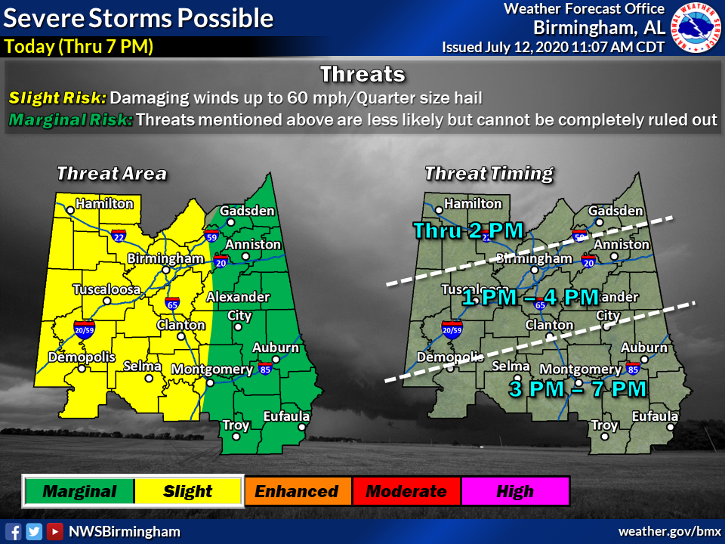 Good morning!   Yesterday we got a small break from the extreme humidity.  Today, the humidity will be on the rise again.  The heat index will rise to 100 to 105.  That's the "extreme caution" range.  Dangerous heat indices will return in the week ahead.  Expect a week of intense heat every day.
A complex of storms will move southward across Alabama today.  It will reach central Alabama this evening.  We could see a few stronger storms.
Routine, spotty random scattered storms will be around each day in the week ahead.  A few lucky towns will be cooled down by the spotty storms.
TODAY:  There will be a good bit of sunshine again today.  Hit today.  High 97.  Heat index 100 to 105.  Much of the day will be dry.  But, A complex of strong/severe storms will move southward across Alabama today.  It will reach central Alabama this evening.  A few storms could produce damaging wind gusts.  Much of the state along and west of I-65 is in a Level 2 Severe Risk.  The rest of the state is in a Marginal Risk.
Here's a Future Radar snapshot at 5:00. This is just a model idea of what the radar might look like, as the complex of storms moves southward into central Alabama.
NEXT FEW DAYS:  The big story will be the intense heat.  Highs in the mid to upper 90's. Lows at night in the mid 70's.  The daily heat index will reach the 105 danger range or higher.  We will be close to the Heat Advisory criteria each day.  There will be typical, routine spotty storms each day. Stay hydrated.
THE TROPICS:  Fay is off the map.  The rest of the tropical Atlantic, the Caribbean and the Gulf of Mexico are quiet as a mouse.
–
I'll have a complete video update for you tomorrow morning.
Stay safe and well. Enjoy the rest of your weekend …
–Rich